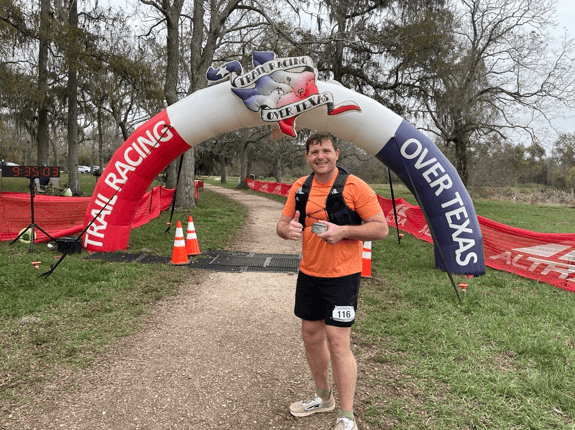 On December 4th, Caleb McDonald completed his first 100-mile ultramarathon. If you asked him three years ago if he could ever run 100 miles continuously, his response would be like most others, "There is no possible way I could do that." Today he is celebrating the holidays with a coveted 100-mile belt buckle, the prize waiting for you when you cross that finish line in under 30 hours.
An ultramarathon is anything greater than the 26.2 miles of a full marathon. There are different distances from a 50-kilometer run to 240 miles. They have time limits like most typical marathons and are ran unceasingly for that period. They do provide aid stations and allow most runners to have crews to help at aid stations with anything from medicine and blister pads to new clothes and shoes. Most ultramarathons are run on trails to alleviate the stress of running on pavement. Trails typically provide a softer landing but come with more technicality due to the obstacles on the path like rocks, roots, or animals.
Caleb started his running training in 2020 with the start of the pandemic. Prior to that, he was seen around the gym focusing on heavy lifting. His main concern was wanting to see a reduction in weight, then work on lean muscle mass. He set a goal and signed up for a triathlon, then started training with swimming, biking, and running. During this time, his training helped him drop eighty pounds and tone up. His heart rate and cholesterol were reduced, and he began feeling more energetic. His biggest push was having something to achieve. This is what kept him going when he did not want to run that day or go for a few laps at the pool. That motivation helped complete that first triathlon, after that he was hooked on breaking the next "big thing" whether it was getting faster or going farther.
Fast forward to 2022, Caleb has completed five 5K's, five half marathons, four full marathons, two triathlons, and four ultramarathons just in this year alone. He looks at every race as a training run for the next race, along with the 50 +/- miles per week he usually is running. The twenty races this past year culminated in the Brazos Bend 100 in Needville, TX where he finished in 27 hours and 33 minutes. He said, "A large part of pushing through 100 miles was having a good mental outlook." He was adamant in stating that even though this was his biggest physical achievement to date, he would not have completed something this huge without his support crew: his wife and family, his friends in the South Arkansas Hustlers, Arkansas Ultra Running Association, and the Arkansas ultrarunning community. "The other key to motivation is finding people to hold you accountable and push you to do your best," he stated as his advice for achieving goals.
You can follow Caleb's running story and more on Instagram @MCD_Adventures and be sure to follow Healthworks @healthworksfitness.