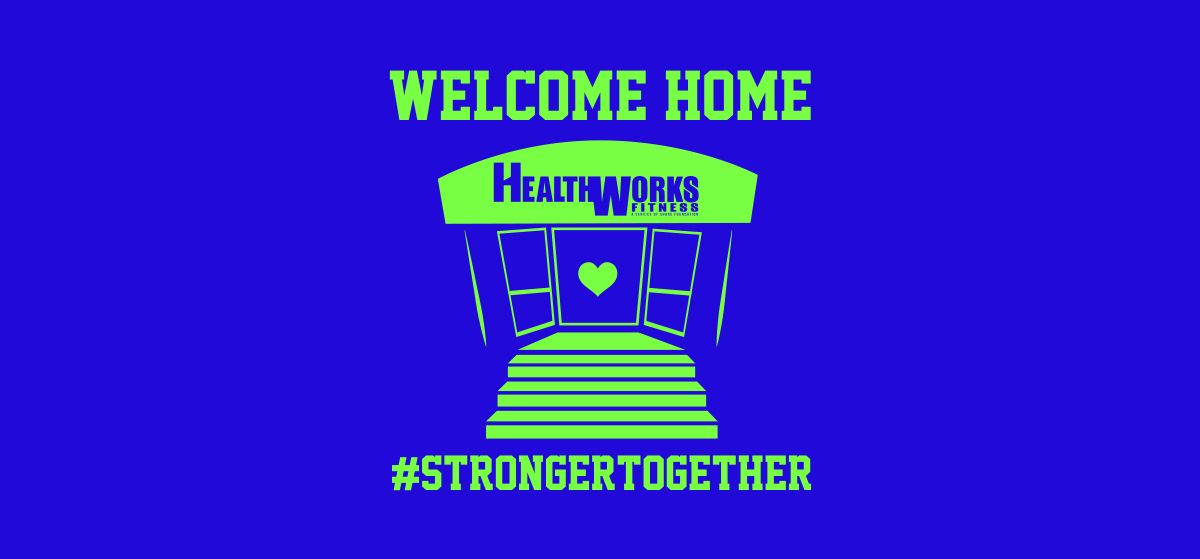 May 21st 2020
In response to recent announcements made by the Governor pertaining to swimming pools, HealthWorks Fitness Center has updated its' Reopening Phase 1. On June 1, HealthWorks will open the activity pool for 50-minute blocks, allowing members usage of the lazy river and activity pool for exercising. There will be no recreation swimming during this phase.
Time slots for swimming will be 7-10 am, and 12-4 pm, with breaks for cleaning Monday through Friday. You must call ahead to reserve your slot. The locker rooms are still closed, so swimmers will need to be prepared. Swimmer capacity is 15 slots for the activity pool, and 6 slots for lap swimming. Everyone must follow Phase 1 guidelines and go through the check-in screening process. A mask must also be worn until you get into the pool and when you leave.
Thank you for your patience as we navigate these re-opening phases. We are ready to see you all again but want to make sure we keep you all safe in the process.
---
May 7th 2020
Please find the updated Membership & Billing information here: CLICK
---
Phase 1 Updates May 6th, 2020
In response to the Arkansas Department of Health's amendment dated May 5, 2020 HealthWorks Fitness Center has amended Phase 1 Re-Opening Guidelines to include lap swimming.
Reservations only no drop-ins. Sign in by calling the front desk and reserving a 1-hour slot. We will have 6 lanes for 50 minutes reserving 10 minutes to clean in between sessions.
Monday – Friday 7-10 am and 12-3 pm
Closed Saturday and Sunday
Locker rooms and showers remain closed during Phase 1. Swimmers are recommended to shower at home prior to swimming.
Everyone must follow all Phase 1 Guidelines.
Swimmers will need to bring a towel and dry off before leaving. They may bring a swim bag, but they have to check-in and clear the screening process. Mask must be worn until they get into the pool and wear when leaving.
We have also amended our statement for admittance to travelers to include our out-of-state members: Those who have returned from travel to NY, NJ, CT, New Orleans or overseas within the last 14 days cannot be admitted. 
 
---
HealthWorks to Re-Open May 6th
El Dorado, AR (May 4, 2020) – HealthWorks Fitness Center, a SHARE Foundation Agency, is excited to announce their re-opening on Wednesday, May 6th from 6 am to 6 pm. HealthWorks has been diligently working on a phased reopening plan since the guidelines were released last week. These guidelines require HealthWorks to begin training protocols for their team regarding new policies, area capacities and closures, cleaning and disinfecting procedures, and more. This means HealthWorks will be open, but not running at full capacity due to restrictions in place. The hours of operation for Phase 1 will be Monday through Friday 6 am to 6 pm, 8 am to 1 pm on Saturday and closed Sunday for deep cleaning.  
HealthWorks has established Phase 1 Guidelines based on a combination of State of Arkansas, CDC, public health, and industry best practices. The primary focus during Phase 1 will be Physical Distancing, Member Protection, Staff Protection, and Sanitization. HealthWorks will require members to sign the HealthWorks Member Pledge to ensure that everyone agrees to keep each other safe. There will be a station in the lobby for members to sign the pledge; however everyone is encouraged to read all Phase 1 Guidelines and the Member Pledge before arriving at the club. Members will also have their temperature checked and asked a few screening questions before admittance. Members will be required to wear a face mask at all times except when actively exercising. Members must maintain physical distance of 6 feet from others at all times, and 12 feet with activity that creates heavy breathing. Each member is to keep their time in the facility to 60 minutes total and to 1 visit per day to allow for utilization by others.
During Phase 1 the pool and track will be closed as well as the locker rooms, showers, steam rooms and sauna.  There will be reduced and modified group fitness classes starting on Monday, May 11. A sign-up sheet will be available at the Front Desk. Members must complete entrance protocol successfully before signing up for the GF class.  First come, first serve- limited space available for classes. There will also be a limited number of members allowed in the facility per each section to accommodate the necessary physical distance requirements.
Other guidelines can be read on the Phase 1 Guidelines posted below.
HealthWorks has also set guidelines for Employee Protection as well as Sanitization standards. Employees will also have temperature checks before being allowed to work and will be required to wear face masks and maintain 6 feet physical distancing. HealthWorks's Cleaning Plan will have a dedicated day time cleaning team as well as their regular night-time team. Members are still required to clean machines before and after each use.
The time frame for Phase 1 is indefinite, but temporary. HealthWorks will communicate changes as they are released to move to the next phase.  As always, HealthWorks wants to thank members for their patience and support as they navigate these uncharted waters. HealthWorks will continue to review their guidelines regularly and communicate changes through email, social media, and our website to meet federal, state, and local guidelines.
The support of HealthWorks's members and the public will continue to make a difference to those in our community. HealthWorks can't wait to welcome everyone home.